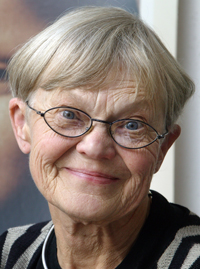 Görel Kristina Näslund was born in 1940 and grew up in Röbäck, a village outside Umeå, a town close to the northern east coast of Sweden. Carl von Linné, the famous Swedish botanist, stayed overnight in Röbäck in 1732 on his way to Lapland. He was shown the spring with its remarkable water. Linné wrote in his book about the journey to Lapland that people had died from drinking the water. Surely, there must have been a misunderstanding. In Röbäck tradition has it that due to the spring water the villagers are a longliving people.The mother of Görel Kristina was 98 years old when she diedin 2002.
Görel Kristina became a home economist in 1961. After two years of teaching, she worked for another two years in a test kitchen in Stockholm. In 1965, Görel Kristina and her husband moved to St. Paul, Minnesota. In Twin Cities she studied journalism at the University of Minnesota and wrote her first book called Foods and Festivals Swedish Style (Dillon Press, Minneapolis).
After leaving St. Paul the couple stayed for two years in Denver, Colorado. During this time Görel Kristina taught Swedish and French cooking in her own cooking school. In her spare time, she enjoyed downhill skiing. There were accidents, of course. For example, one Sunday afternoon skiing in Vail she broke her leg. Another day, the always so slippery lutfisk (the typical Swedish Christmas fish) that her students had prepared was lost in the drain. On the whole, the students had lots of patience with their Swedish teacher. After more than 30 years she still is in contact with Francie, one of the students, and the two of them have travelled together in Europe.
Back in Stockholm in 1970, Görel Kristina, now divorced, worked for some years at Expressen, a large evening newspaper, and then for nearly a decade at a weekly magazine. In 1982 it was time for another move. She left journalism to study psychology. Today, Görel Kristina is a psychologist and doctor of medical science having presented a thesis at Karolinska Institutet, Stockholm.
Since that first book published in Minneapolis, Görel Kristina has written about 30 more books in subjects such as psychology, cooking, and pomology. Apples happens to be her great favorite. What is so special about apples? Their beauty, their delicate smell, their taste, as well as their important place in mythology and legends, is her answer. The climate helps to give Nordic apples an outstanding goodness.
Today Görel Kristina lives with her partner Gullmar in a house surrounded with apple trees just north of Stockholm. Gullmar too is a fan of apples. And he makes a fantastic Tarte Tatin, the famous French apple cake.